Racing out in front of the others I arrived triumphantly at the end of the line, a long winding snake of a line which ended at the entrance to the roller coaster. Never before had I been on one, never before had I been old enough but now I was 10, now I could ride the Zambezi Zinger with my friends. It was all anyone in fourth grade could talk about, some of my friends had been on this thing more than once but now it was my turn; I could not wait to be twisted, spun and shaken into oblivion.
"Step up, back to the stand, right there against the umbrella please", the gatekeeper cried, the only thing standing between me and 180 seconds of unparalleled madness.
Josie, Mary and Jenny all eased through with barely a nod from the teenage sentry. I ducked by but he stopped me, "one minute there missy, back against the umbrella please, you must be 48 inches tall to ride the Zambezi!".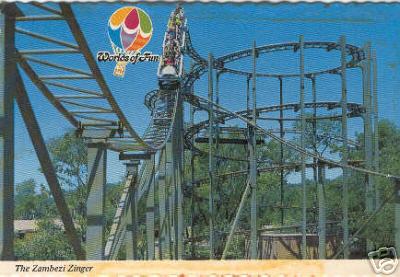 With all my might I eased up from my heels, camouflaging as best I could the obvious deficit between the top of my head and the top of my ticket to happiness.
"Hmmm, you don't seem to reach the top do you?"
A bit more of a push from the heel and I was almost there, "oh no, I'm tall enough, I'm 10. Today is my birthday".
He shook his head, "sorry kiddo, but for your safety you must be as tall as my umbrella, please step this way", and he opened the gate hidden behind him, the one used by people who were not brave enough to face the Zambezi head on, the coward gate. My friends stepped into the car and lowered the bar, I stepped out, finding my 6'3" father waiting for me. He was worried that I wouldn't pass the height requirement and offered to walk me over to the Funcular, the one loop roller coaster sized just for children.
Turns out I hated roller coasters, still do.
Mary and Kate's language arts writing assignment this week was to write a short essay about a birthday celebration, including descriptive language and conflict. This is my take on fourth grade,
with a nod to my daughter who is struggling this year with being the shortest one in her class.